Club Activities
March 2018 Uthrotars
February 2018 Uthrotars
Bell Ringing 2017
December 2017 Uthrotars
Novemebr2017 Uthrotars
October 2017 Uthrotars
Congratulations to Dick Allen - our newest
Honorary Member of the Rotary Club of Wausau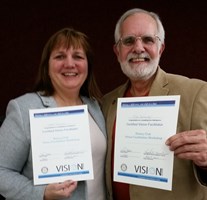 Congratulations to Rotarians Debi Traeder and Jim Schulz from the Wausau Early Bird Rotary Club for completing training to be facilitators in Rotary Club Visioning Programs for area Rotary Clubs on February 4, 2017 in Green Bay, WI
December 13, 2016 - The Rotary Club of Wausau once again assisted the Salvation Army during the holiday season with bell ringing at the Wausau Center Mall. This year's efforts brought in over $600 for the day's ringing.
See some of the work the Rotary Club of Wausau has done - Bluegill Bay Park restoration and more.
Meet Our Uthrotars 2016-17
The Uthrotar program of the Rotary Club of Wausau honors the efforts of exceptional seniors in the area high schools including: Wausau East, Wausau West, Newman Catholic, Northland Lutheran and D.C. Everest. Students are chosen by their respective schools' teachers and counselors. Each month, October through April, two students from each school are welcomed to be part of the Rotary experience.
Oct. 2016 Uthrotars
Nov. 2016 Uthrotars
Dec. 2016 Uthrotars
Jan. 2017 Uthrotars
February 2017 Uthrotars
March 2017 Uthrotars
April 2017 Uthrotars