News
https://waam.viebit.com/player.php?hash=qvXPrzqT87pj
Wausau City Council Meeting 12/12/2017 unanimously passes the resolution to allow the Rotary Club of Wausau's proposed 100th anniversary Sculpture project on Wausau's River Walkway. Discussion & voting on this project start at 1:08:48 on the taped City Council's proceedings .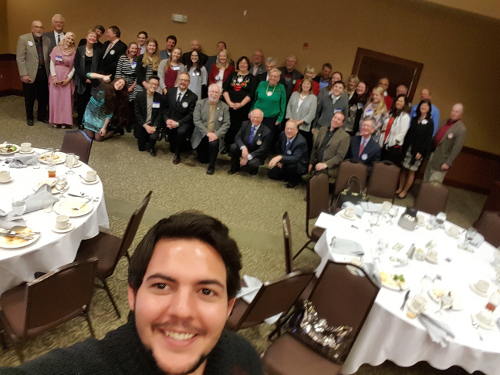 Ramzi Hadri, President of the Coordination of Rotaracts Clubs of Tunisia, recently attended our meeting.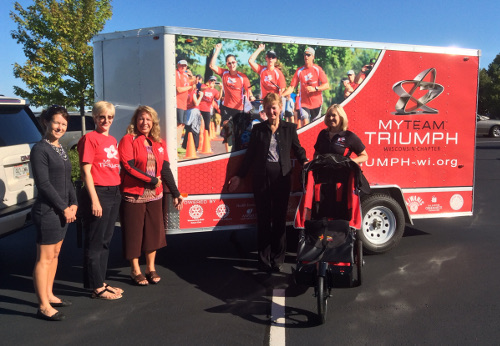 September 9, 2015-- The Rotary Club of Wausau recently contributed $2,500 to myTEAM TRIUMPH to help purchase a trailer for myTEAM TRIUMPH is a 501(c)(3) non-profit athletic mentoring program created for children, teens, adults and veterans with disabilities who would normally not be able to experience endurance events such as triathlons or road races. Pictured left to right are: Melanie Galang an Heather Haupt of myTEAM TRIUMPH, Early Bird Rotary President Amy Wood, Jean Tehan, president of The Rotary Club of Wausau and Veronica Lyon of myTEAM TRIUMPH. Wausau Early Bird Rotary Club contributed $2,500.
April 6, 2015, the Rotary Club of Wausau welcomed a new club member, Erik Rajek of Ridgestone Bank. Pictured with Erik is his sponsor, Patrick Bradley.
June 30, 2012 - Grants Committee Update
June 11, 2012 - The Rotary Club of Wausau will provide $1,000 scholarships to these 2012 Rotary Club Scholarship recipients. Students from left to right: Sarah Poirier, Wausau West Sarah Connolly, Newman Catholic Nate Fiene, DC Everest Yer Thor, DC Everest Not pictured: Caleb Solofra - Northland Lutheran High School
Also pictured: Rotary President Kirk Howard, left, and John Townshend,
Chair of our Rotary Scholarship Program. See right photo
April 10, 2012 - Rotary Club Of Wausau's March Hungerplus Initiative Nets $2,000 Contribution To The Marathon County Hunger Coalition more
January 13, 2012 - Tickets and sponsorships for "Let's Dance," a night of dancing featuring the music of the Fat Brass band are now available. Proceeds will fund the Rotary Club of Wausau's many projects. more
September 14, 2011 - Wausau Rotary Run Up Granite Peak Defies Gravity While Aiding Area Youth more
May 17, 2011 - 2011 Japan Group Study Exchange April 28-May 1, 2011
Click here for Event Summary
May 2, 2011 - Rotary Club Of Wausau Acknowledges 14 New Paul Harris Fellows [more]
March 22, 2011- Congratulations to Rotarian Brad Peck who was named Principal of the Year by the Association of Wisconsin School Administrators. Brad is principal at Wausau East High School and a past president of the Rotary Club of Wausau.
Monday, March 14 - Bring a Guest Meeting is scheduled for Monday, March 14 at noon at the
Jefferson Street Inn in Wausau. If you're interested in learning more about the Rotary organization this is the meeting to attend! You'll hear from a variety of members about the value that they have benefited as a result of being a member of Rotary. Please contact a current member or Laurie Prochnow Membership Chair for additional information or reservations for March 14. Laurie can be reached at llp@mriwausau.com or 715-842-1750 e302.
February 17, 2011 - Rotary Ambassadorial Scholarships
The Rotary Foundation sponsors one of the largest international scholarship programs in the world. Scholars study in a different country, where they serve as unofficial ambassadors of goodwill. Since 1947, more than 47,000 scholars from 110 countries have received scholarships of more than $476 million through The Rotary Foundation.
Applications for Rotary's District 6220 scholarship are now being accepted by the Wausau Noon Rotary Club for the scholarship period of July, 2012 through June, 2013. Scholarships are worth up to $25,000. Candidates must have completed at least two years of university or college course work at the time the scholarship period begins or have a secondary school education with employment in a recognized vocation for at least two years. Winner of the Wausau Noon Rotary Club nomination will be submitted to Rotary District 6220 for personal interview in mid-April, 2011, to compete with other District clubs' submitted nominees.

Candidates cannot be Rotarians, honorary Rotarians, or employees of a Rotary entity, and must not be lineal descendants of Rotarians. Applications must be made through a local Rotary club in the applicant's legal or permanent residence or place of full-time study or employment.

Further information is located at the following Rotary site online, as well as the application form and instructions. Applications are due by March 1, 2011, to the Wausau Noon Rotary scholarship chair, Karen Graff, at 2336 Shepherd St., Mosinee, WI 54455. Feel free to e-mail any questions to Karen at graffkaren@gmail.com, or call 715-574-0270. Click here for more information.
July 12, 2010 - Bill Tehan, our new Rotary Club president,
recently met Rotary International President Ray Klinginsmith.
January 12, 2010 - Wausau Noon Rotary organization will
be celebrating its 95th Anniversary on
Monday, January 18, 2010 more ...
June 2009 District 6220 Newsletter
July 13, 2009 - John Eldred assumed the duties of president for
the Rotary Club of Wausau.
July 13, 2009 - Plans for the second annual Wrut N Run at Granite Peak October 3, 2009 in Wausau are being finalized. If you're a
runner, a walker, a hiker or just curious, find the latest information under Events.
July 13, 2009 - Our newest Paul Harris Fellows are: Brad Peck, Diane Bartell and Tom Cane. Congratulations to these outstanding Rotarians for their commitment to Rotary and Service Above Self.