12/25/2020
As we enjoy a quiet, chilly, white Christmas today, let's be thankful we were able to help 160 local families add a little cheer to their Holidays. Thanks to Ben Lee from the Hunger Coalition for taking this photo when we handed off the grocery vouchers to Wausau School District Social Worker Ashlee Karpinsky.
12/14/2020
Our newest PHF is Jim Campbell's Granddaughter, Josie Luella Campbell.  This is Jim's 9th family member to become a PHF.
                   (2 year old Josie in her 2020 Halloween costume)
Rep. Pat Snyder (RCW member) and Olivia Ratts recently had the pleasure of honoring the career of Dr. Bradley Peck — and congratulate him on his retirement from Wausau East High School. Dr. Peck had been a part of "Lumberjack High" for nearly 32 years and served as principal since January 1996. Pictured with Dr. Peck is Olivia Ratts, a 2020 graduate of Wausau East, who contacted my office wanting to make sure that despite the school year being cut short, Dr. Peck would receive the recognition from the legislature and the community that he deserves. Thank you, Dr. Peck, for positively impacting so many lives over your incredible career!
The Legislative Citation we presented him with reads as follows:
"Honoring the Career of Wausau East Principal Dr. Bradley J. Peck
WHEREAS, Dr. Bradley J. Peck, who has earned a Bachelor of Science degree in English and Communication Arts, a Master's degree in Educational Administration, and a Doctorate degree in Educational Administration all at the University of Wisconsin–Madison, began his distinguished career in education as an English and Speech teacher in Joliet, Illinois before joining Wausau East High School – during which time he also coached football and baseball; and
WHEREAS, Dr. Peck then became an associate principal at Eau Claire Memorial High School before returning home to "Lumberjack High" – first as an associate principal before assuming the principalship in January of 1996 and has been serving the students, parents, staff, and community as Wausau East High School Principal ever since; and
WHEREAS, throughout his entire career in education, Dr. Peck underscored with his students, colleagues and staff the core values by which he lives his life: with respect for the dignity of others, with the integrity that compels us to conduct ourselves responsibly, to act with compassion and be sympathetic towards others, and to strive for excellence through determination, discipline, and dedication; and
WHEREAS, Dr. Peck, who has been a positive influence on the Wausau community and has impacted thousands of students' lives over the thirty and one-half years of service at Wausau East High School, is now retiring at the end of the 2019-2020 school year to be able to spend more time with his proudest accomplishment, his family, who together enjoy spending time outdoors, participating in many different sports, and spending time at their hunting cabin.
NOW, LET IT THEREFORE BE RESOLVED THAT: Governor Tony Evers, Senator Jerry Petrowski, and Representative Patrick Snyder, on behalf of the State of Wisconsin, do hereby honor Dr. Bradley J. Peck on his distinguished career as an educator, role model, principal, and leader, congratulate him on his well-deserved retirement, and wish him all the best in the years to come."
He's retired. But long time Rotarian, Wausau East High School's Brad Peck says it's still a 'great day to be a Lumberjack!'
January Uthrotars
February Uthrotars
10/28/2019: Today's program was member Kirk Howard presenting an update on our club's Centennial International Water project in South Sudan. After 6 years, five wells we be drilled next week, and their water will no longer look like the bottle of water the child is holding.
October 2019 Uthrotars
10/14/2019 Program: Shannon Jarecki (Domestic Abuse Program Coordinator & Andrea Oyuela (Latinix Advocate Program Coordinator) updated the membership about The Women's Community & some of the newest support services they offer. http://womenscommunity.org/
10/14/2019: At today's meeting Lisa Dodson inducted our newest member, John Overland, CEO for Samoset Boy Scout Council. Kelly Fischer (R) proposed John for membership. Sean Wright (L) is our President.
Mike Beck is introducing our newest member, Andy Edwards, at today's meeting (President Sean Wright in the background). Andy then provided the membership with a thumbnail sketch of himself. Andy is recently retired from the military and now is the location manager for First Student bus services in Wausau.
8/19/2019 Program
Today's Program: Colin Hanson, Edgar 5th grade teacher for 16 years and Founder of A Walk in Their Shoes whos mission is a collaborative effort by north central Wisconsin educators putting a very personal face on current events.
Colin gave an overview of this year's programming theme, "Local American Heroes"
1. October-Month of Youth Adolescents speaker from Land O lakes is 1976 Olympic swimming medalist.
2. November-Veterans Day Wisconsin's only two living Medal of Honor recipients Gary Wetzel (South Milwaukee) & Kenneth Stumpf (Tomah).
3. March-Civil Rights' 1961 Freedom Rider Charles Person
https://www.facebook.com/awalkintheirshoes/
8/5/2019 Program: Andrea Larson, Executive Director for the Iron Bull Extreme Sports group. They will be doing several extreme race events in our region. This will not only bring in tourism dollars, but also draw attention/interest to our region for Millennials.
8/5/2019: Rotary Club of Wausau's president Sean Wright (L) presents Scott Muschinske his 2nd Paul Harris Fellowship at today's meeting.
7/29/2019: Mary Kate Riordan from the Lake Wausau Association presented to members at our meeting held at Memorial Park on Lake Wausau. She talked about the mission of the LWA & the Adopt A Shoreline program started last year. Our club has adopted the shoreline along Memorial Park & will do cleanups twice each year, spring and fall. the LWA is open to anyone interested improving this wonderful resource for boating, fishing, birding and sightseeing etc.
https://www.facebook.com/Friendsoflakewausau
http://lakewausau.org/
Northland Lutheran High School collected the most socks for the Warming House!!
President Gaylene Rhoden accepting a large bag of socks donated from Hewitt-Texas Elementary School students for Wausau's Warming House.
Love is International: Exchange students for all over the world come to Wausau every year for a fun filled winter weekend!  Cohosted with the Wausau Early Birds. VIDEO
Our 2018 tree project will actually be a 2019 tree project!  A replanting in Rib Mountain is required because of the high mortality rate of first planting.
Uthrotars attending in October, November & December of 2018 & January, February, March & April 2019, from Wausau area high schools
The induction of Lt. Donna Thammavongsa from the Salvation Army at the Monday, January 14 Rotary Club meeting. Her proposer, Mike Beck (L) and WRC President Gaylene Rhoden (R).
Wausau City Council Meeting 12/12/2017 unanimously passes the resolution to allow the Rotary Club of Wausau's proposed 100th anniversary Sculpture project on Wausau's River Walkway. Discussion & voting on this project start at 1:08:48 on the taped City Council's proceedings .Wausau City Council Meeting December 12, 2017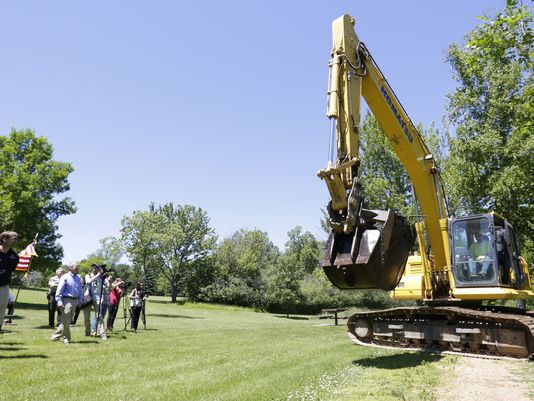 June 20, 2016, Cleanup project starts in Bluegill Bay Park
Laura Schulte, USA TODAY NETWORK-Wisconsin
RIB MOUNTAIN – Bluegill Bay Park is dirty. Full of weeds, algae and dead organic matter, it's not exactly the ideal place for a summertime dip in the water nor the perfect place to cast a line. Read More.