Welcome to
Rotary Club of Wausau!
The mission of Rotary International is to provide service to others, promote integrity, and advance world understanding, goodwill, and peace through its fellowship of business, professional, and community leaders.
Members of the Rotary Club of Wausau illustrate the key principles of Rotary International. That's Service Above Self, living by the Four-Way Test and a commitment to international understanding. That translates into an engaged membership that cares about local and global issues and is willing to use its talents to help. Come attend a meeting as our guest and see for yourself. We are currently meeting in-person, Mondays Noon to 1 PM CST. Zoom Meeting is also available.
Call Debi at 715-551-0966 to learn more about Rotary Club.
---
Unveiling of The Rotary Fence @ The Hagar House
Posted: Monday, August 22, 2022
By: Denis Tan
In May this year, the Rotary Club of Wausau presented a check to The Hagar House to help fund the building of a fence around their property. Today, our club had a chance to have an awesome cookout with the staff and board members of The Hagar House, and to check out the fence that had been installed.

A couple more finishing touches around the property and it will soon be ready for moms and their kids to move in.
Special thanks to Rtn. Kirk Howard and Patti Howard for providing the food, Rtn. Patrick Bradley for being our grill master, Rtn. Rosemary Barnes for the wonderful zuchinni bars, and the staff at The Hagar House for hosting us.

Gov. Dave Anderson, thanks for coming and being a part of this event.

Together, Rotarians continue to do good in our community.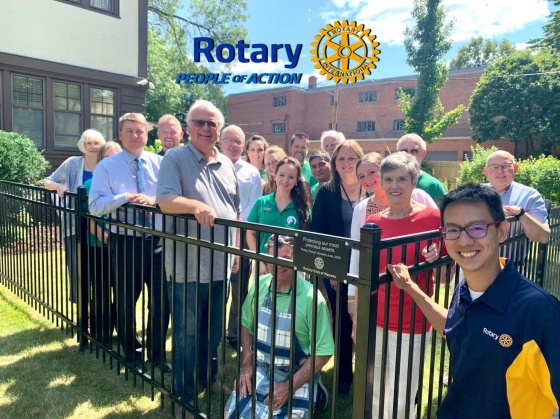 ---
From Tragedy to Amazing Community Service
Posted: Friday, April 1, 2022
Contributed By: Makenna Kampmann, a sophomore at DC Everest High School and participant in the Wisconsin Institute for Public Policy and Service High School Student Journalism Program.
A fifth-grade teacher at Evergreen Elementary school in Rothschild, Cheryl Goetsch, decided to "Be Amazing" after an area shooting, which resulted in the loss of lives in 2017. In response to the shooting, Goetsch talked with her fifth-graders about what it means to be amazing in their school and community. Students concluded that it means to help others.
Goetchs' fifth-graders gathered a list of people they could help. Then, for the next eight weeks, the fifth graders met for several hours in groups and focused on a person or group of individuals in need of help. Next, they brainstormed ways they could offer assistance including fundraising, increasing awareness, and community service.
The following school year, Goetsch officially started the "Be Amazing" club at Evergreen Elementary, and another teacher with Mr. Wood started the club at the DC Everest Middle school. The club has grown since 2018 with 13 clubs in Everest, Wausau, and Mosinee school districts. The Be Amazing clubs work to raise money to provide other clubs and individuals with funds to do acts of community service.
Tara Lancelle, the club advisor at Riverside Elementary, said she hopes this club can bring kindness and love to the community. Lancelle and the students hope to make life easier for people who are having a hard time.
"There are young people who want to make a difference in the world. It doesn't matter how small they may be, they have great ideas " (Tara Lancelle).
Jamie Fischer, whose organization, Beds for Kids, has received funds from Be Amazing, said that the Be Amazing club inspires her with positive energy and determination never to give up.
"The Be Amazing club is a really good example for the rest of us: adults and children alike. They are dedicated, they don't give up, they encourage good ideas, and they prove that anyone can make a change in our community" (Jamie Fischer).
Goetsch hopes that the club continues to grow and benefit not only schools in the D. C. Everest District but throughout the Wausau area. Be Amazing groups are active only in the central Wisconsin region now, but Goetsch hopes that there could be a club in every school district in the state.
Goetsch was a recent speaker on "Be Amazing" at the Wausau Early Birds Rotary Club.
---
Rotary E-Cycling Days.
Rotary Presents $11,464.50 Check to Good News Project
Posted: Monday, November 15, 2021
By: Denis Tan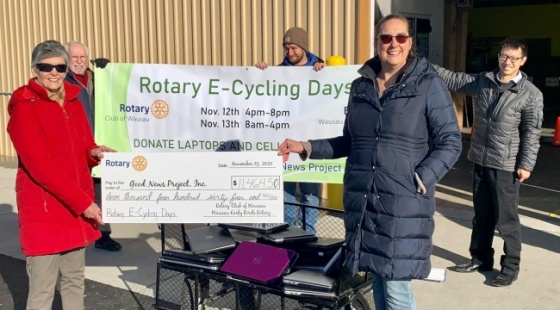 During the month of November, Rotary Club of Wausau and the Wausau Early Birds Rotary Club partnered with the Good News Project to help raise funds to purchase a new medical sanitizing equipment.

In part of Rotary Environmental Days, both Rotary Clubs helped the Good News Project collect old Laptops, Chromebooks, MacBook and cellphones that could be recycled for cash.

A total of 595 laptop devices and 263 cellphones were collected. That generated a total of $3,964.50 for this Recycling Drive. Both Rotary Clubs and the district will contribute a total of $7,500 in grants and we presented a check with a total of $11,464.50 to the Good News Project, Inc.
---
Rotary E-Cycling Days.
Posted: Thursday, October 28, 2021
By: Denis Tan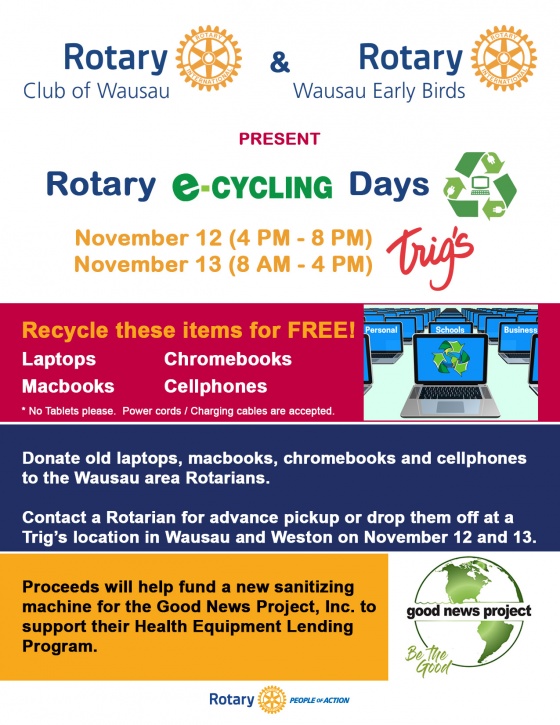 Questions? Email Rotarian Kirk at kirk@kinziegreen.com and he'll follow up on any questions or request.
---
October 24 is World Polio Day. But we are celebrating a week earlier.
Posted: Monday, October 11, 2021
By: Denis Tan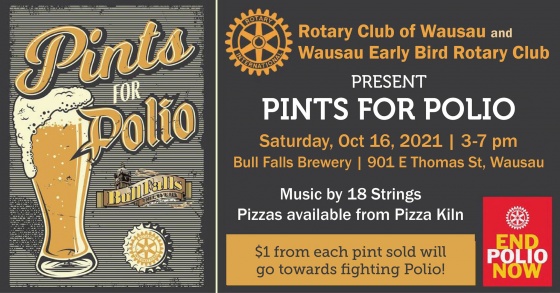 ---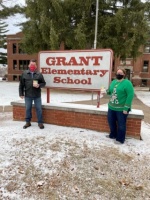 HungerPlus-Marathon County helps 160 local families
Posted: Friday, December 25, 2020
By: Denis Tan
As we enjoy a quiet, chilly, white Christmas today, let's be thankful we were able to help 160 local families add a little cheer to their Holidays. Thanks to Ben Lee from the Hunger Coalition for taking this photo when we handed off the grocery vouchers to Wausau School District Social Worker Ashlee Karpinsky.
---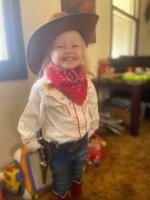 Our newest PHF is Jim Campbell's Granddaughter, Josie Luella Campbell.
Posted: Monday, December 14, 2020
By: James K. Campbell Jr.
Our newest PHF is Jim Campbell's Granddaughter, Josie Luella Campbell. This is Jim's 9th family member to become a PHF.
(2 year old Josie in her 2020 Halloween costume)
---
Rotarian Dr. Brad Peck is honored by Rep. Pat Snyder
Posted: Thursday, September 17, 2020
By: James K. Campbell Jr.
Rep. Pat Snyder (RCW member) and Olivia Ratts recently had the pleasure of honoring the career of Dr. Bradley Peck — and congratulate him on his retirement from Wausau East High School. Dr. Peck had been a part of "Lumberjack High" for nearly 32 years and served as principal since January 1996. Pictured with Dr. Peck is Olivia Ratts, a 2020 graduate of Wausau East, who contacted my office wanting to make sure that despite the school year being cut short, Dr. Peck would receive the recognition from the legislature and the community that he deserves. Thank you, Dr. Peck, for positively impacting so many lives over your incredible career!
---
Hear from our Rotarians...