Welcome to
Rotary Club of Wausau!
The mission of Rotary International is to provide service to others, promote integrity, and advance world understanding, goodwill, and peace through its fellowship of business, professional, and community leaders.
Members of the Rotary Club of Wausau illustrate the key principles of Rotary International. That's Service Above Self, living by the Four-Way Test and a commitment to international understanding. That translates into an engaged membership that cares about local and global issues and is willing to use its talents to help. Come attend a meeting as our guest and see for yourself. We're currently meeting virtually on Zoom, Mondays Noon to 1 PM CST. Join us by clicking on the link: Zoom Meeting.
Or call Debi at 715-551-0966 to learn more about Rotary Club.
---
Rotary Presents $11,464.50 Check to Good News Project
Posted: Monday, November 15, 2021
By: Denis Tan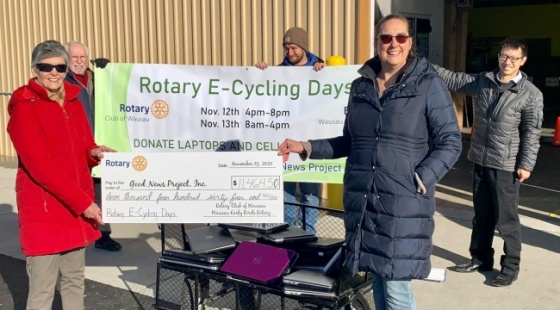 During the month of November, Rotary Club of Wausau and the Wausau Early Birds Rotary Club partnered with the Good News Project to help raise funds to purchase a new medical sanitizing equipment.

In part of Rotary Environmental Days, both Rotary Clubs helped the Good News Project collect old Laptops, Chromebooks, MacBook and cellphones that could be recycled for cash.

A total of 595 laptop devices and 263 cellphones were collected. That generated a total of $3,964.50 for this Recycling Drive. Both Rotary Clubs and the district will contribute a total of $7,500 in grants and we presented a check with a total of $11,464.50 to the Good News Project, Inc.
---
Rotary E-Cycling Days.
Posted: Thursday, October 28, 2021
By: Denis Tan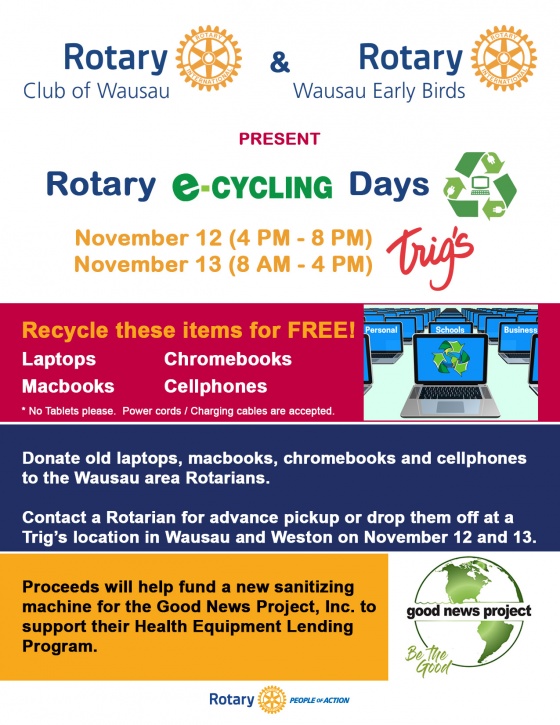 Questions? Email Rotarian Kirk at kirk@kinziegreen.com and he'll follow up on any questions or request.
---
October 24 is World Polio Day. But we are celebrating a week earlier.
Posted: Monday, October 11, 2021
By: Denis Tan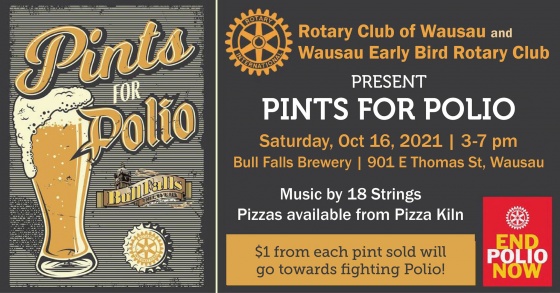 ---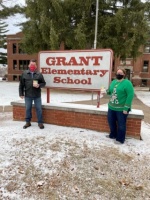 HungerPlus-Marathon County helps 160 local families
Posted: Friday, December 25, 2020
By: Denis Tan
As we enjoy a quiet, chilly, white Christmas today, let's be thankful we were able to help 160 local families add a little cheer to their Holidays. Thanks to Ben Lee from the Hunger Coalition for taking this photo when we handed off the grocery vouchers to Wausau School District Social Worker Ashlee Karpinsky.
---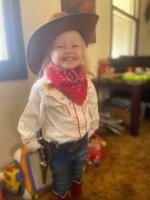 Our newest PHF is Jim Campbell's Granddaughter, Josie Luella Campbell.
Posted: Monday, December 14, 2020
By: James K. Campbell Jr.
Our newest PHF is Jim Campbell's Granddaughter, Josie Luella Campbell. This is Jim's 9th family member to become a PHF.
(2 year old Josie in her 2020 Halloween costume)
---
Rotarian Dr. Brad Peck is honored by Rep. Pat Snyder
Posted: Thursday, September 17, 2020
By: James K. Campbell Jr.
Rep. Pat Snyder (RCW member) and Olivia Ratts recently had the pleasure of honoring the career of Dr. Bradley Peck — and congratulate him on his retirement from Wausau East High School. Dr. Peck had been a part of "Lumberjack High" for nearly 32 years and served as principal since January 1996. Pictured with Dr. Peck is Olivia Ratts, a 2020 graduate of Wausau East, who contacted my office wanting to make sure that despite the school year being cut short, Dr. Peck would receive the recognition from the legislature and the community that he deserves. Thank you, Dr. Peck, for positively impacting so many lives over your incredible career!
---
Hear from our Rotarians...