Doing Great Things in Our Community and Around the World
Rotary Club of Wausau Projects
For our 100th Anniversary in 2015, the Rotary Club of Wausau led research and development of the clean-up of Bluegill Bay Park in Wausau for family fishing and recreation. The club is also sponsoring the development of public art for the Wausau area as well as other celebratory events throughout 2015-16.
Each year, students from each of five area high schools are chosen to participate in the Rotary Uthrotar program. Students are invited to attend club meetings, network with local business people and participate in community service projects to learn more about their chosen fields of study for college and their future.
HungerPlus-Marathon County is a grassroots, collaborative effort initiated by the club to support the Marathon County Hunger Coalition. To date, the club has raised over $51,000 through member donations for the purchase of food as well as nutrition and cooking classes for area residents in need. It may come as no surprise that our club consistently rises to the occasion…we have captured every matching incentive and have donated over $51,000 to the United Way Hunger Coalition to date. We were also responsible for securing 8,400 5 lb. bags of #2 potatoes (that's 21 tons!) and 1,800 dozen eggs (that's 21,600 eggs) that were distributed to every food pantry in Marathon County! Since 2015 the club has assisted in providing food and cooking classes for those in need to have a happy Thanksgiving with their families.
The Hunger Coalition has presented our club with their "Community Champion of Hunger" award in 2014 and 2015
Your email will serve as your "pledge card"
Cash – make arrangements with Patrick to pick up, or you to drop off your donation
Check – payable to United Way Hunger Coalition and mail
Patrick Bradley
PO Box 315
Schofield, WI 54476-0315
Scholarships/Doing Great Things in Our Community and Around the World Grants
Love Is International is another annual event hosted by the Rotary Club of Wausau and the Early Birds Rotary Club. Rotary-sponsored foreign-exchange students placed all over northern and central Wisconsin are given the opportunity to meet and share experiences with each other and students in local high schools for a fun-filled weekend each Spring.
Rotary Club of Wausau provides 5 – $1000 college scholarships to area high school seniors each Spring. We also sponsor two students each fall in the Rotary Youth Leadership Academy.
Other Activities
The club has also volunteered for and supported area events and programs including Highway Clean-up, Ringing Bells for Salvation Army, Little League, Boys and Girls Club, Scouting, Robert Monk Gardens Easter Egg Hunt, United Way Ready to Read, Grand Theatre, Performing Arts, School Districts, Kids Voting, Community Vegetable Gardens and more.
In 2014, the club provided sponsorship of building water wells in South Sudan – with total funds sent reaching over $42,000.
Meet Our Uthrotars
The Uthrotar program of the Rotary Club of Wausau honors the efforts of exceptional seniors in the area high schools including: Wausau East, Wausau West, Newman Catholic, Northland Lutheran and D.C. Everest. Students are chosen by their respective schools' teachers and counselors. Each month, October through April, two students from each school are welcomed to be part of the Rotary experience.
March 2018 Uthrotars
| | |
| --- | --- |
| | Congratulations to Rotarians Debi Traeder and Jim Schulz from the Wausau Early Bird Rotary Club for completing training to be facilitators in Rotary Club Visioning Programs for area Rotary Clubs on February 4, 2017 in Green Bay, WI |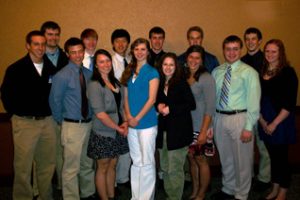 Area high school students participated in a recent Ethics in Action program
where they discussed ethics with community leaders.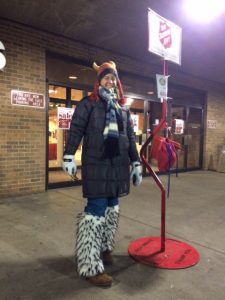 December 13, 2016 – The Rotary Club of Wausau once again assisted the Salvation Army during the holiday season with bell ringing at the Wausau Center Mall. This year's efforts brought in over $600 for the day's ringing.